Conducting network optimizations to reduce waste Optimizing density to reduce truck frequency and carbor(CO2).
We focus on sustainability because simply, it is the right thing to do and important to our owners, employees, and customers.
Logos Logistics is a SmartWay Transport Partner. We work hard to minimize our impact on the environment, including using fuel-efficient tires, custom aerodynamic tractors and trailers, and technology to shorten trips and promote fuel conservation.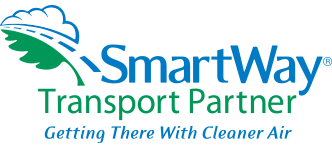 SmartWay® Is A Partnership Between The EPA And The Freight Transportation Industry With The Mutual Goal Of Helping Shippers, Carriers And Logistics Companies Improve Fuel Efficiency And Reduce Carbon Emissions.
Ready To Cut Costs and Streamline Your Supply Chain Process?